Six Thinking Hats - A Way of Effective Thinking
Ordinary people often think about problems with various complex emotions and opinions, and want to solve all the problems at the same time, so they can't see the essence of the problem. When discussing in a meeting, because each person's thinking is different, they are prone to disputes and often cost Time and effort to justify, resulting in ineffective thinking and inability to make clear judgments. Thus, the biggest enemy of thinking is chaos. The reason why thinking is not effective is because you think about too many things at once.
What is Six Thinking Hats?
Six Thinking Hats have been popular for more than 20 years around the world. It's a commonly used and influential framework of thought. Its aim is to direct individuals to "parallel thinking," which means thinking one point of view at a time, making the process of thinking easy and unchaotic.
It urges us to separate our thought into multiple aspects, in turn to carry out single and adequate thinking from various aspects, and finally to have several viewpoints on one subject, so that the result of thinking is more comprehensive and optimal.
Here are the meaning of the six thinking hats:
White thinking hat: White is a neutral color, representing neutrality and objectivity, and representing neutral and objective facts and figures collected in the process of thinking, such as evidence, figures, information, etc.

Red Thinking Hat: Red is a warm and enthusiastic color, representing the intuition, emotion, emotion, feeling, impression, intuition and other problems in the thinking process.

Yellow Thinking Hat: Yellow is the color of sunshine and optimism, representing positivity and positivity, representing optimism and constructive thinking, interest and desirability in researching a problem during the thinking process.

Black thinking Hat: Black is the color of logic and negation, representing caution and negation. It represents whether the reflection of facts and judgments in the process of thinking is consistent with evidence, taking into account negative factors such as risks, difficulties and potential problems.

Green thinking Hat: green is an active color, representing creativity, ingenuity, and the diversity of exploration, suggestions, suggestions, new ideas and feasibility in the thinking process.

Blue thinking Hat: Blue is the calm color, representing command and control, represents the control and organization of the thought process, calmly manage the thinking procedures and steps, understand the needs, summarize and make decisions.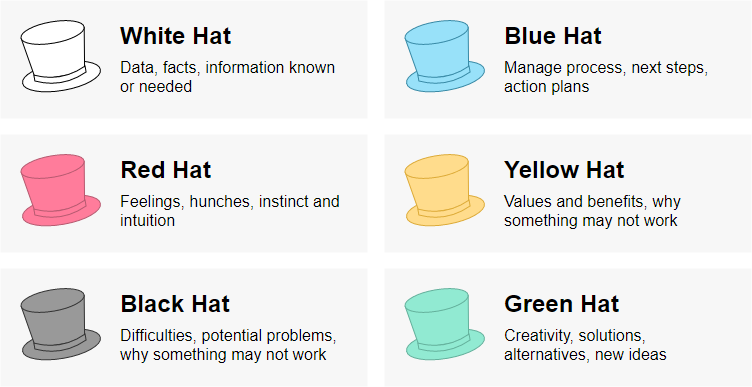 Edit this Template