Debt to Equity Ratio Calculator
This is an online debt to equity ratio calculator.The debt-to-equity ratio (D/E) is a financial ratio indicating the relative proportion of shareholders' equity and debt used to finance a company's assets. In other words, it is calculated by dividing a company's total liabilities by its shareholder equity. These figures are available on the balance sheet of a company's financial statements.
Debt to Equity Ratio Formula
In a general sense, the ratio is simply debt divided by equity. However, what is classified as debt can differ depending on the interpretation used.
Thus, the ratio can take on a number of forms including:
Debt / Equity
Long-term Debt / Equity
Total Liabilities / Equity
Where
Total liabilities – Total liabilities represent all of a company's debt, including short-term and long-term debt, and other liabilities (e.g., loans, overdrafts, and deferred tax liabilities).
Shareholders' equity – Shareholders' equity is found in the balance sheet and includes amounts invested by the owners and any retained profits.
Example of ABC Company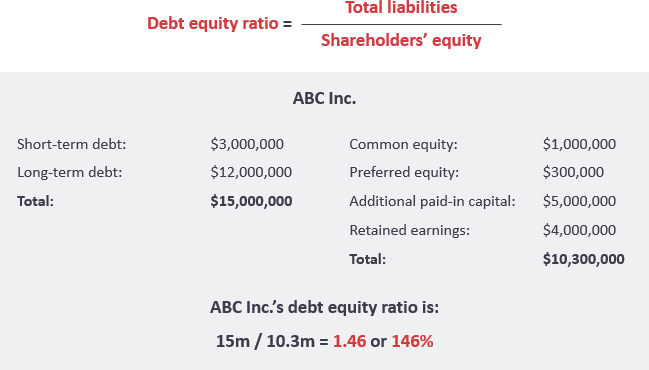 Debt to Equity Ratio Calculators