The SWOT analysis method is the situation analysis method. It was proposed by Weirik, a professor of management at the University of San Francisco in the early 1980s. It is often used in enterprise strategy formulation, competitor analysis and other occasions including analysis of Strengths, Weaknesses, Opportunities, and Threats. Therefore, the SWOT analysis is a method that comprehensively summarizes the various aspects of the internal and external conditions of the enterprise, and then analyzes the strengths and weaknesses of the organization, opportunities, and threats faced.
Through SWOT analysis, you can help companies to pool resources and actions in their strengths and where there are the most opportunities; and to make their strategy clearer.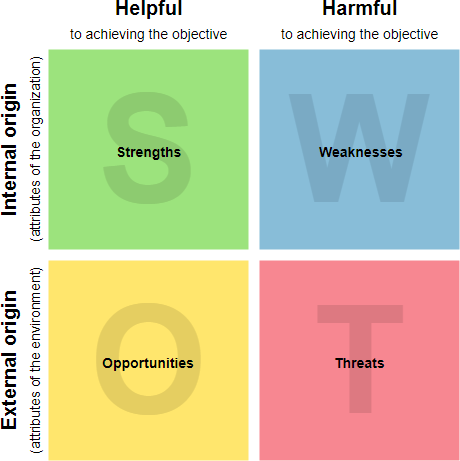 What is a SWOT model
The analysis of strengths and weaknesses focuses on the strength of the company itself and its comparison with competitors, while the opportunity and threat analysis focus on changes in the external environment and possible impact on the company. In the analysis, all internal factors (i.e., strengths and weaknesses) should be grouped together and then evaluated by external forces (opportunities and threats).
Internal Factors (Strengths and weaknesses)
The analysis of strengths and weaknesses (S-W) of internal conditions is an internal method of assessment. The main purpose is to confirm the relationship between expertise and ability of the organization's internal conditions. The strengths and weaknesses of its internal conditions are internal factors that the organization can control, including financial resources, technical resources, research and development, organizational culture, human resources, product characteristics, and marketing resources.
External Factors (opportunities and threats)
With the rapid development of economy, science and technology and many other aspects, especially the acceleration of globalization and integration of the world economy, the establishment of global information networks and the diversification of consumer demand, the environment in which companies are located are more open and volatile. This change has had a profound effect on almost all businesses. Because of this, environmental analysis has become an increasingly important corporate function.
The Opportunity and Threat (O-T) analysis is a method of evaluating the external environment. The main purpose is to confirm the relationship between the competitions of the industrial environment outside the organization. The opportunities and threats of the external environment are external factors that cannot be controlled by the organization, including factors such as competition, politics, economy, law, society, culture, science and technology, and demographic environment.
What is a Competitive Advantage?
Identifying attractive opportunities in the environment is one thing, and having the necessary competency to succeed in an opportunity is another matter. Each company must regularly check its strengths and weaknesses. When two companies are in the same market or they all can provide products and services to the same customer group, if one of them has higher profitability or profit potential, then we think that the company has a higher competitive advantage than the other. In other words, the so-called competitive advantage refers to a company's ability to surpass its competitors, and this ability helps to achieve the company's main goal – profitability. However, it is worth noting that competitive advantage is not necessarily fully reflected in higher profitability, because sometimes companies prefer to increase market share or employees.
Competitive advantage can refer to any superiority in the eyes of a consumer or its product in comparison with its competitors. It can be the breadth of the product line, the size, quality, reliability, suitability, style, and image of the product and services. Although a competitive advantage refers to a company that has a stronger overall advantage than its competitors, it is more meaningful to specify in which area the company has an advantage, because only in this way can we foster strengths and avoid weaknesses, or we can defeat the weakness.
Since the enterprise is a whole and the sources of competitive strengths are very extensive, it is necessary to make a detailed comparison between the company and its competitors from the aspects of the entire value chain when analyzing the strengths and weaknesses. Such as whether the product is novel, whether the manufacturing process is complicated, whether the sales channel is unimpeded, and whether the price is competitive. If an enterprise's advantage in one aspect or several aspects is the key success factor that a company in the industry should have, then the enterprise's comprehensive competitive advantage may be stronger. It should be pointed out that to measure whether a company and its products have a competitive advantage can only stand on the perspective of existing potential users, rather than stand on the perspective of the company.
In the process of maintaining a competitive advantage, enterprises must profoundly understand their resources and capabilities and take appropriate measures. Because once a company has a competitive advantage in one aspect, it is bound to attract the attention of competitors. Generally speaking, after a period of hard work, the company establishes a certain competitive advantage; then it is in a situation to maintain this competitive advantage, and competitors start to respond gradually; and if the competitors directly attack the advantage of the company, or Taking other more powerful strategies will weaken this advantage.
The main factors affecting the duration of a company's competitive strengths are:
How long does it take to establish this advantage?
What are the advantages to be obtained?
How long does it take for a competitor to make a strong reaction?
If the company analyzes these three factors clearly, it will identify itself in establishing and maintaining its competitive advantage.
The company should not correct all its weaknesses, nor should it make use of all its strengths. The main question is whether the company should be limited to the opportunities it already has, or whether it should acquire and develop some strengths to find better opportunities.
SWOT Analysis Strategies
In the process of adaptability analysis, enterprise top management should be based on the determination of internal and external variables, using leverage, inhibitory, vulnerability, and problematic four basic concepts to analyze this model.
Leverage (S + O). Leverage effects arise when internal and external opportunities are consistent and adaptive to one another. In this situation, companies can use their internal strengths to pick up external opportunities and fully integrate opportunities and strengths. However, opportunities are often fleeting, so companies must sharply capture opportunities and seize the opportunity to seek greater development.
Inhibitory (W + O). Inhibiting means impeding, preventing, influencing and controlling. When the opportunities provided by the environment are not suited to the internal resource advantages of the company, or cannot be overlapped with each other, the strengths of the enterprise will no longer be realized. In this situation, companies need to provide and add certain resources to promote the transformation of internal resources and weaknesses into strengths to cater to or adapt to external opportunities.
Vulnerability (S + T). Vulnerability means the decrease or decrease in the degree or intensity of strengths. When environmental conditions pose a threat to the company's strengths, the strengths cannot be fully exerted and ending up with a fragile situation. In this situation, companies must overcome the threats to take advantage of them.
Problematic (W + T). When the company's internal weaknesses and corporate external threats meet, companies face severe challenges. If they are not properly handled, they may directly threaten the survival of the company.
Steps for Conducting SWOT Analysis
What is the current strategy?
Confirm the changes in the external environment of the company (Porter 5 force or PEST)
According to the company's resource mix, confirm the company's key capabilities and key constraints.
Construct the SWOT Matrix by placing each one of already identified factors. This is an excellent graphic presentation of what is good and what is bad in your company, and what you can expect as an opportunity or threat.
Define SWOT Strategies
Choose what strategy to be adopted and determine the future direction and improvement actions to be taken
Case Study 1: Amazon SWOT Analysis

Amazon Detailed SWOT Analysis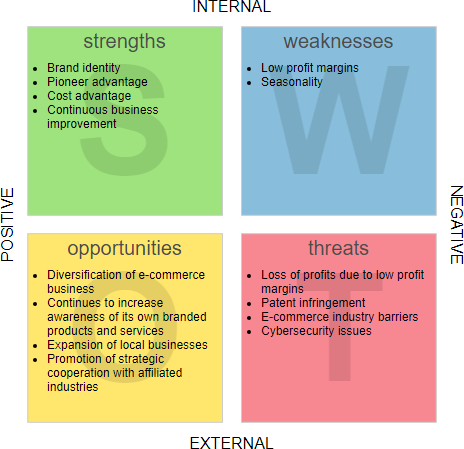 Strength
Brand Identity: Amazon is synonymous with online sales services, and Amazon focuses on improving customer satisfaction during the business process.
Pioneer advantage: Amazon is undoubtedly the leader in the online retail industry.
Cost structure: Amazon effectively uses its cost advantage, operates on thin profits, and is still profitable in trading.
Business Development: Amazon continuously improves its service level and provides diversified services.
Weakness
Low-profit margins: Amazon has a very thin profit margin to maintain its cost-leading strategy. But low-profit margins make companies vulnerable to external shocks and crises, as well as other market changes.
Seasonality: There is a seasonal difference between Amazon's revenue and business scope, with sales and revenue peaking in the fourth quarter of each year.
Opportunity
Today's diversification of e-commerce business
Continues to increase awareness of its own branded products and services.
Amazon develops more local websites to participate in the international market. With the international expansion of Amazon, some local businesses have the opportunity to enter the international market.
Promoting the strategic cooperation between Amazon e-commerce and its related affiliated industries will drive positive development of the industry
Threat
Loss of profits due to low-profit margins
Patent infringement and other aspects of Amazon's litigation
E-commerce industry barriers to entry barriers
Cybersecurity issues
Amazon – Recent Development
What do you need to do next after you understand strengths and weaknesses and identify opportunities and threats? Let us take a look at how Amazon has seized the opportunity to successfully transform itself from an e-commerce company into a global leading technology company! When Amazon realized the limitations of the retail industry, it expanded its business boundaries promptly. In addition to cloud computing and smart voice, Amazon has also contacted third-party platforms such as logistics and suppliers, and even invested in the film and television industry, making its business model more diversify. In 2008, Amazon realized that content can attract and extend users' time on the platform, and began to provide original content on Prime Instant Video, Amazon's mainstream media video platform, and as part of the Prime membership service. Amazon's ecology can be described as a rotating flywheel. This flywheel is centered on Prime's membership system, and new interests have been added to it, gradually creating an all-encompassing ecology. While continuing to attract new users, it has promoted the development of Amazon's e-commerce and other new businesses, and it will continue to do so.
Case Study 2: Starbucks SWOT Analysis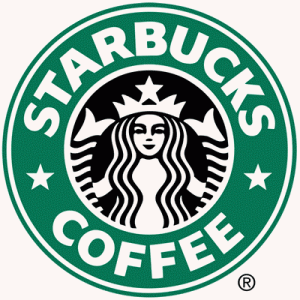 Strengths – The Starbucks Group has strong profitability, with 2004 revenue exceeding $600 million.
Weaknesses – Starbucks is known for its continuous improvement and innovation. (Translator's Note: It can be understood as the instability of the product line)
Opportunity – The launch of new products and services, such as the sale of coffee at the show.
Threats – rising costs of coffee and dairy products.
Starbucks Detailed SWOT Analysis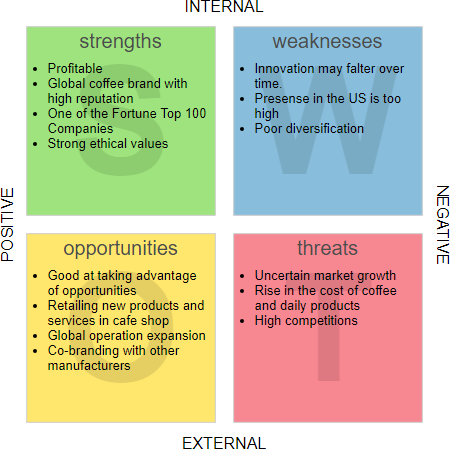 Strengths
Starbucks Corporation is a very profitable organization, earning more than $600 million in 2004. The company generated revenue of more than $5000 million in the same year.
It is a global coffee brand built a reputation for fine products and services. It has almost 9000 cafe shop in almost 40 countries.
Starbucks was one of the Fortune Top 100 Companies to Work For in 2005. The company is a respected employer that values ​​its workforce.
The organization has strong ethical values ​​and an ethical mission statement as follows, 'Starbucks is committed to a role of environmental leadership in all facets of our business.'
Weaknesses
Starbucks has a reputation for new product development and creativity. However, they can vulnerable to the possibility that their innovation may falter over time.
The organization has a strong presence in the United States of America with more than three-quarters of its cafe shop located in the home market. Some people think they need to invest in different countries (national portfolios) to spread business risks.
The organization is dependent on a main competitive advantage, the retail of coffee. This could make them slow to diversify into other sectors should the need arise.
Opportunities
Starbucks is very good at taking advantage of opportunities. E.g. In 2004 the company created a CD-burning service in their Santa Monica (California USA) cafe with Hewlett Packard, where customers created their music CD.
New products and services that can be retailed in their cafe shop, such as low price products.
The company has the opportunity to expand its global operations. New markets for coffee such as India and the Pacific Rim nations are beginning to emerge.
Co-branding with other manufacturers of food and drink and brand franchising to manufacturers of other goods and services both have potential.
Threats
Who knows if the market for coffee will grow and stay in favor with customers, or whether another type of beverage or leisure activity will replace coffee in the future?
Starbucks is exposed to rises in the cost of coffee and dairy products.
Since its conception in Pike Place Market, Seattle in 1971, Starbucks' success has to lead to the market entry of many competitors and copycat brands that pose potential threats.
Case Studies 3: Coca-Cola SWOT Analysis Example

Coca-Cola Detailed SWOT Analysis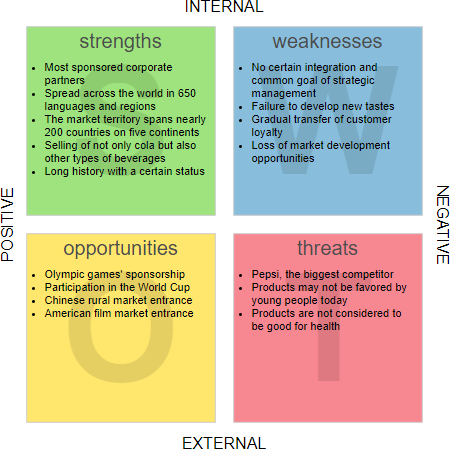 Strength
Most sponsored corporate partners.
Spread across the world in 650 languages ​​and regions.
The market territory spans nearly 200 countries on five continents.
To develop new products, the Coca-Cola Company not only sells cola but also other types of beverages.
Coca-Cola has a long history, so it has a certain status in the market.
Weaknesses
There is no certain integration and the common goal of strategic management.
The failure to develop new tastes.
The gradual transfer of customer loyalty.
Loss of market development opportunities.
Opportunity
Sponsor the Olympic Games, use this opportunity to replace their brands, products, and make advertisements, especially The Olympic Games is a worldwide movement that allows the world's population to recognize this product, expand its market reach, and raise awareness of its products.
Participate in the World Cup, take this world-wide activity to pave the way for your products and gain popularity.
Enter the Chinese rural market.
Enter the American film market.
Threat
Pepsi is Coca-Cola's biggest competitor
The products produced by the company may not be favored by young people today.
Coca-Cola is not considered to be good for health by many people
Formulating Actions for SWOT Analysis
Having completed a SWOT Analysis, so what's next? Is this enough to conduct the SWOT analysis? You need to know when you are analyzing that at the end of the process you need to expect future directions for next actions. Here is an example of formulating actions for a SWOT analysis:
Strength
Weaknesses
Opportunity
SO:

Enter the Chinese rural market and the American film market
Advertise to gain popularity, and expand the market.

WO:

Integrate strategic management from the headquarters and develop common goals.
Think of ways to retain existing customers.
Sponsoring the Olympic Games and the World Cup will take advantage of this opportunity to advertise for their brands and products.

Threat
ST:

Alliance with restaurants and food chains with promotion signs in machinery, posters, etc.
Research for new products for young people
Research for healthy beverages recipes.

WT:

Have an overall review of the strategy whether to consolidate the traditional beverage market or diversify into another related market.
Consolidation of traditional market

Through acquisition
New Products·

Use the existing marketing channels to expand related, less competitive markets
Disclaimer: This case study has been compiled from information freely available from public sources. It is merely intended to be used for educational purposes only.