SWOT Analysis: Example Amazon
Let us take a look at how Amazon has seized the opportunity to successfully transform itself from an e-commerce company into a global leading technology company!
When Amazon realized the limitations of the retail industry, it expanded its business boundaries promptly. In addition to cloud computing and smart voice, Amazon has also contacted third-party platforms such as logistics and suppliers, and even invested in the film and television industry, making its business model more diversify.

In 2008, Amazon realized that content can attract and extend users' time on the platform, and began to provide original content on Prime Instant Video, Amazon's mainstream media video platform, and as part of the Prime membership service. Amazon's ecology can be described as a rotating flywheel. This flywheel is centered on Prime's membership system, and new interests have been added to it, gradually creating an all-encompassing ecology. While continuing to attract new users, it has promoted the development of Amazon's e-commerce and other new businesses, and it will continue to do so.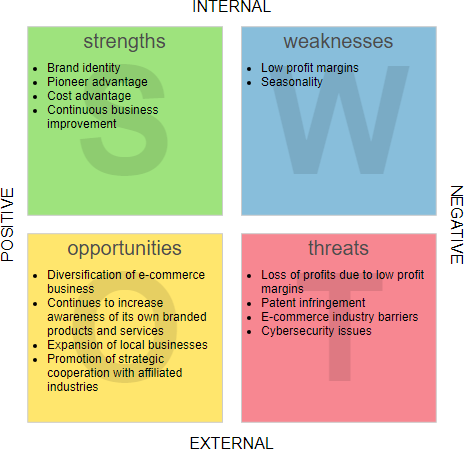 SWOT Analysis Template Specifications:
Customizable:
This SWOT Analysis template can be fully customized according to your needs whether it's about content, colors, layouts, design blocks, or any other design elements.