If you are a product development manager to brainstorm an idea, no need to write a 40-page new product proposal to convince your boss that previously took 40 pages and months to write. Thank for the emergent of various templates of Model Canvas in widely variety of product lifecycle management activities, now you can structure the innovative ideas or business model to fit in one page by using the off-the-shelf product canvas temples or design a new product canvas by yourself with Visual Paradigm Analysis Canvas tool.
Product Canvas
Product Canvas is a simple but powerful tool that helps you create a product with a great user experience and the right features. It combines Agile and UX by complementing user stories with personas, storyboards, scenarios, design sketches and other UX artefacts. It's designed to work with Scrum, Lean Startup, and Business Model Generation. The canvas supports Lean UX by combining user centred-design and agile techniques.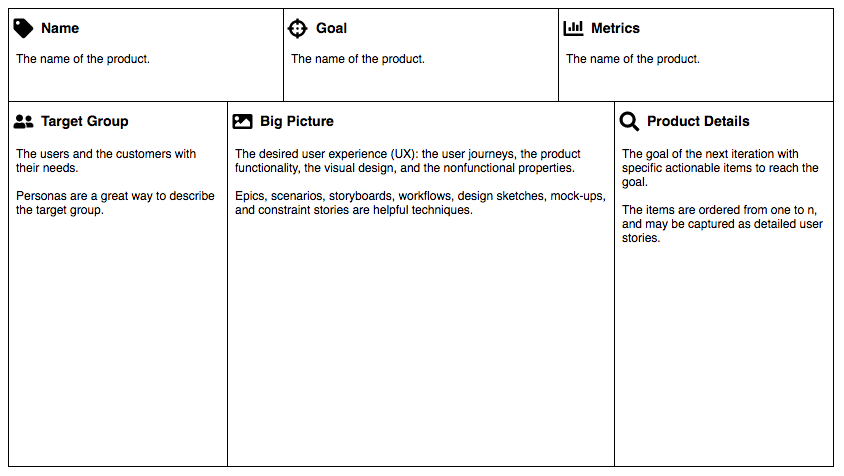 Edit this Diagram
Scrum Product Canvas
The canvas is divided into 8 segments for recording the most important information of the product or service related actors, user goals, epics and the associated user stories. You may also put some visual design such as wireframe in the design segments, if it is not too crowded to accommodate it. If it is really too packed, perhaps we can put a hyperlink and brief description there to solve this problem. Some constrain could also be incorporate into it.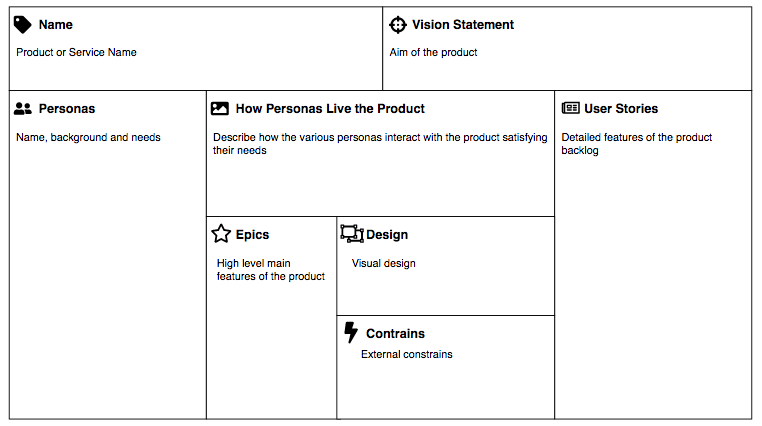 Edit this Diagram
Product Management Canvas
The Product Management Canvas (PMC), is a strategic management and entrepreneurial articulation tool. It allows one to describe a product having the highest return on investment versus risk. The canvas started as a checklist for Product Managers to ensure they have not missed any aspect of Product planning. However, it was always aimed to capture the current state of an evolving product. Thus, Product Management Canvas should be used to communicate across various groups and departments to ensure all have the same picture of the product. (* Source – The Product Management Canvas)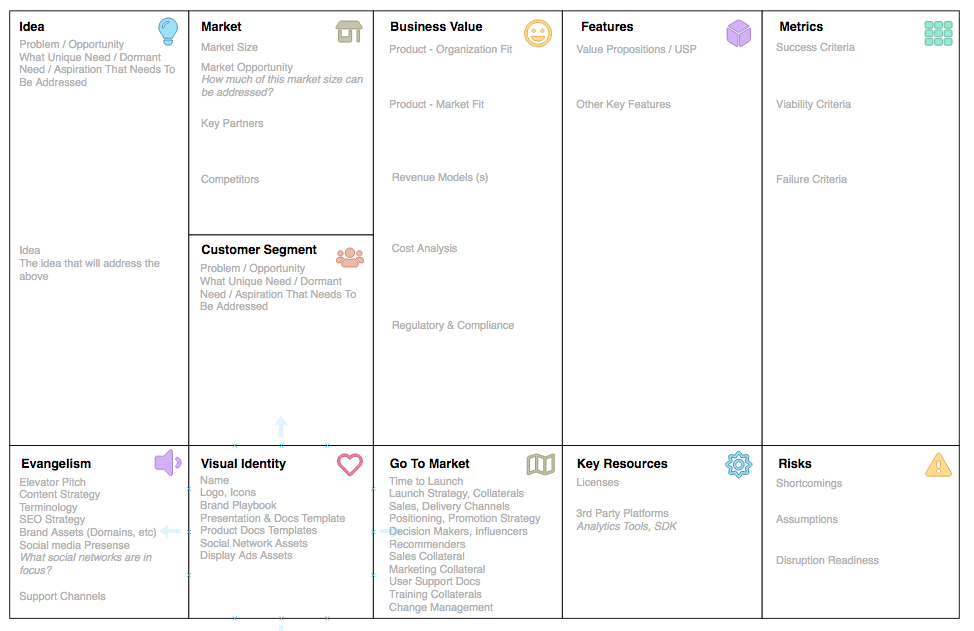 Edit this Diagram
The Pitch Canvas
The Pitch Canvas is an entrepreneurial brainstorming tool that helps you structure and visualizes your pitch on one page. It is created by David Beckett with investor-centric design approach by using the investment winning elements of a Startup Pitch. You use Post-It notes to brainstorm all your ideas about each block of The Pitch Canvas. Ideally, you do this as a team, but you can also brainstorm on your own. Get the pitch out of your head so that you can organize your thoughts.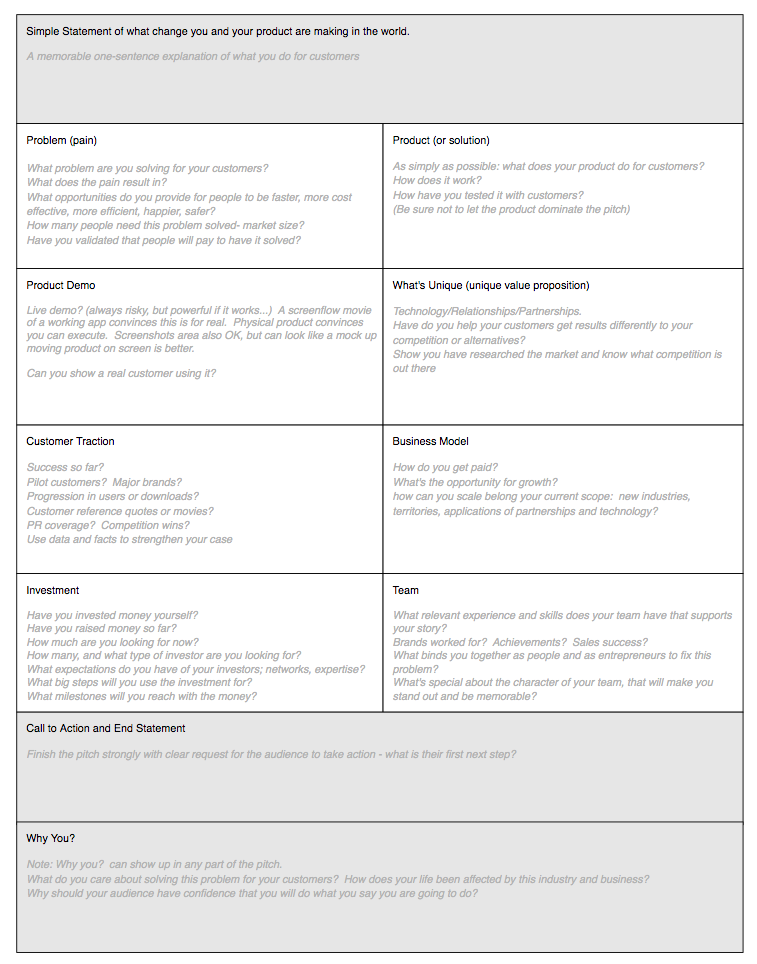 Edit this Diagram
What is Analysis Canvas? Why we need it?
As I mentioned before, there are so many different type of product canvas templates proposed in the internet for serving different purposes. Now let's call them "Analysis Canvas" which is a visual chart with elements describing a firm or product value proposition, infrastructure, customers, and finances. It assists firms in aligning their activities by illustrating potential trade-offs.
Visual Paradigm Analysis Canvas empowers you to modify and create any custom type of product canvas you want over the cloud platform. In addition, it comes with large collection off-the-shelf model canvas templates for you to get start with. You can adopt, customize or create and reuse as many as new model canvases online as you need.
How to Customize an Existing Model Canvas?
Choose from a wide selection of Business Model Canvas template from Visual Paradigm Online and start customizing the canvas according to your needs. You may also create your own canvas directly by selecting a blank template.
Go to Business Model Canvas examples page

Select the canvas you wish to edit
Click on Use This Template to start editing

Drag and Drop shapes and text from the palette to customize your canvas

How to Create a New Product Canvas?
Already have all the content ready for your canvas? Feel free to create your Business Model Canvas. Simply follow these steps:
Select Analysis Canvas category and start to create a plain (blank) analysis canvas
Based on your content, use the Split tool to cut the region into different sections. Right click to trigger the splitting tool.

Once you're done press File > Save from the top menu