Business Model Canvas vs Value Proposition Canvas vs Product Canvas
Nowadays, Canvas is a kind of new tool emerged and gained popularity due to is simplicity. These canvases provides different template that greatly simplify the strategic business planning process. What used to be a 40+ page document can now be expressed on a single page. While canvas templates aim to provide simple effective tools for expressing a business model; there could be a great differences exist among them, as they aim to serve wide variety of business purposes or even different domains.
The most noticeable types of Analysis Canvas including business model canvas, value proposition canvas, product management canvas, lean canvas or team canvas and you will find many more if you google around in the internet; each of them with different focus underlining philosophy for achieving different goal and nature businesses. Now, let's briefly review these popular canvas templates, before we customize or design a new template by your own:
Business Model Canvas
The Business Model Canvas, developed by Alexander Osterwalder, is a visual representation of current or new business models that provides a holistic view of the business as a whole. It is lightweight, simple and easy to understand for visually documenting key sections of a business strategy. The Business Model Canvas gives people a common language through which is easy to discuss your business model with others.
The Building Blocks of Business Model Canvas
The Business Model Canvas consists of nine basic building blocks. These blocks show the logic of how your company intends to make profits in the business. Typically, the business use sticky notes to add items to the Business Model Canvas, in this way you can easily change something or place an item in another building block.
Create your Business Model Canvas by completing the building blocks in the following order
Customer Segments – Define the different groups of people or organizations you aim to reach and serve.

Who are the target customers?
For whom are you creating value?
Who are your most important customers?

Value & services – Describe the products or services that create value for your customers.

Why would a customer choose your company?
What customer problem or need do you solve?
Which products or services are offered?

Channels – Determine how you reach your customers to deliver the value.

How does your company reach customers?
Which communication, distribution and sales channels are used?
How would customers want to be reached?

Customer Relationships – Define which kind of relationships your company has with the customers.

Relationships can vary from manual to automated system.
How personal is the relationship with the customer?
What type of relationship does the customer expect?

Revenue Structure – Describe how the company generates revenues. Revenue is generated by selling your products or services or from other activities.

For what are the customers willing to pay?
For what are the customers currently paying?
How do customers prefer to pay?

Key Resources – Determine the most important resources for your company. Key resources can be physical, financial, intellectual, or human.

What resources are needed to create value or revenue?
What resources does your company need to organize the distribution channels?
What resources are needed to maintain customer relationships?

Key Activities – Define the most important activities your company must perform.

What activities are needed to maintain customer relationships?
What activities are needed to generate value and revenue?
What is needed to organize the distribution channels?

Key Partnerships – Describe the suppliers and partners on which your company depends. Partnerships can be created to reduce risk or to acquire resources.

Who are your partners and suppliers?
Which resources are acquired from them?
Which activities do partners perform?

Cost Structure – Creating and delivering value to customers will result in costs. Determine the most important costs inherent in your business model.

Which Key Resources are most expensive?
Which Key Activities are most expensive?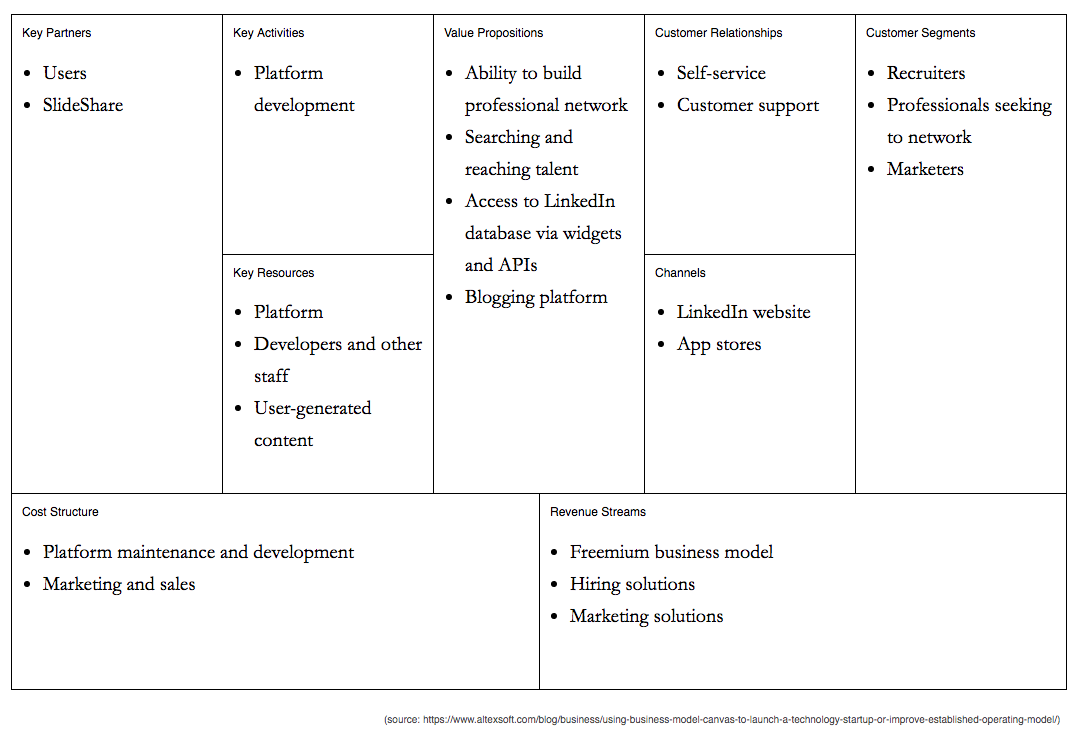 Value Proposition Canvas
The Value Proposition Canvas was initially developed by Alexander Osterwalder as a framework to ensure that there is a fit between the product and market by zooming in on two elements of a business model: the value proposition segment (what you offer to your customers) and the customer segments (who your customers are).
Customer Profile

Gains – the benefits which the customer expects and needs, what would delight customers and the things which may increase likelihood of adopting a value proposition.
Pains – the negative experiences, emotions and risks that the customer experiences in the process of getting the job done.
Customer jobs – the functional, social and emotional tasks customers are trying to perform, problems they are trying to solve and needs they wish to satisfy.
A customer profile should be created for each customer segment, as each segment has distinct gains, pains and jobs.
Value Map
Gain creators – how the product or service creates customer gains and how it offers added value to the customer.
Pain relievers – a description of exactly how the product or service alleviates customer pains.
Products and services – the products and services which create gain and relieve pain, and which underpin the creation of value for the customer.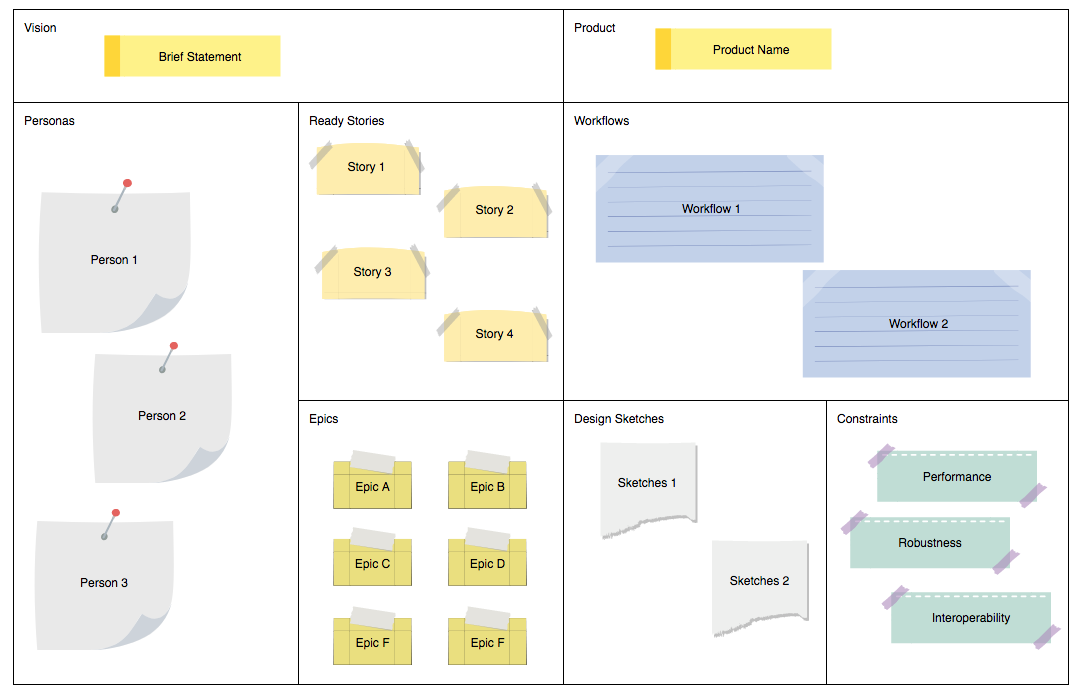 Edit this Diagram
Product Canvas
Product Canvas, a simple but powerful tool proposed by Roman Pichler (Founder of the Scrum Framework) that helps you create a product with a great user experience and the right features. It combines Agile and UX by complementing user stories with personas, storyboards, scenarios, design sketches and other UX artefacts. It's designed to work with Scrum, Lean Startup, and Business Model Generation. The canvas supports Lean UX by combining user centred-design and agile techniques.
As you have probably noticed, the Product Canvas combines form and function, a structure together with suggested techniques. The following diagram and the text below the sections of the canvas.
Product Canvas Template
The best way to understand the Product Canvas is to look at an example. Imagine that we want to develop a game that helps children learn about music and dancing. A canvas for such a game could look like the one below.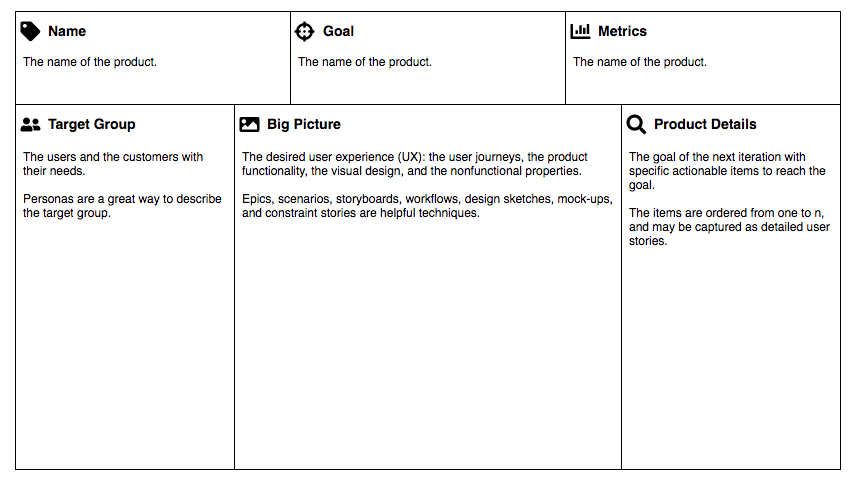 Here is another template for product canvas: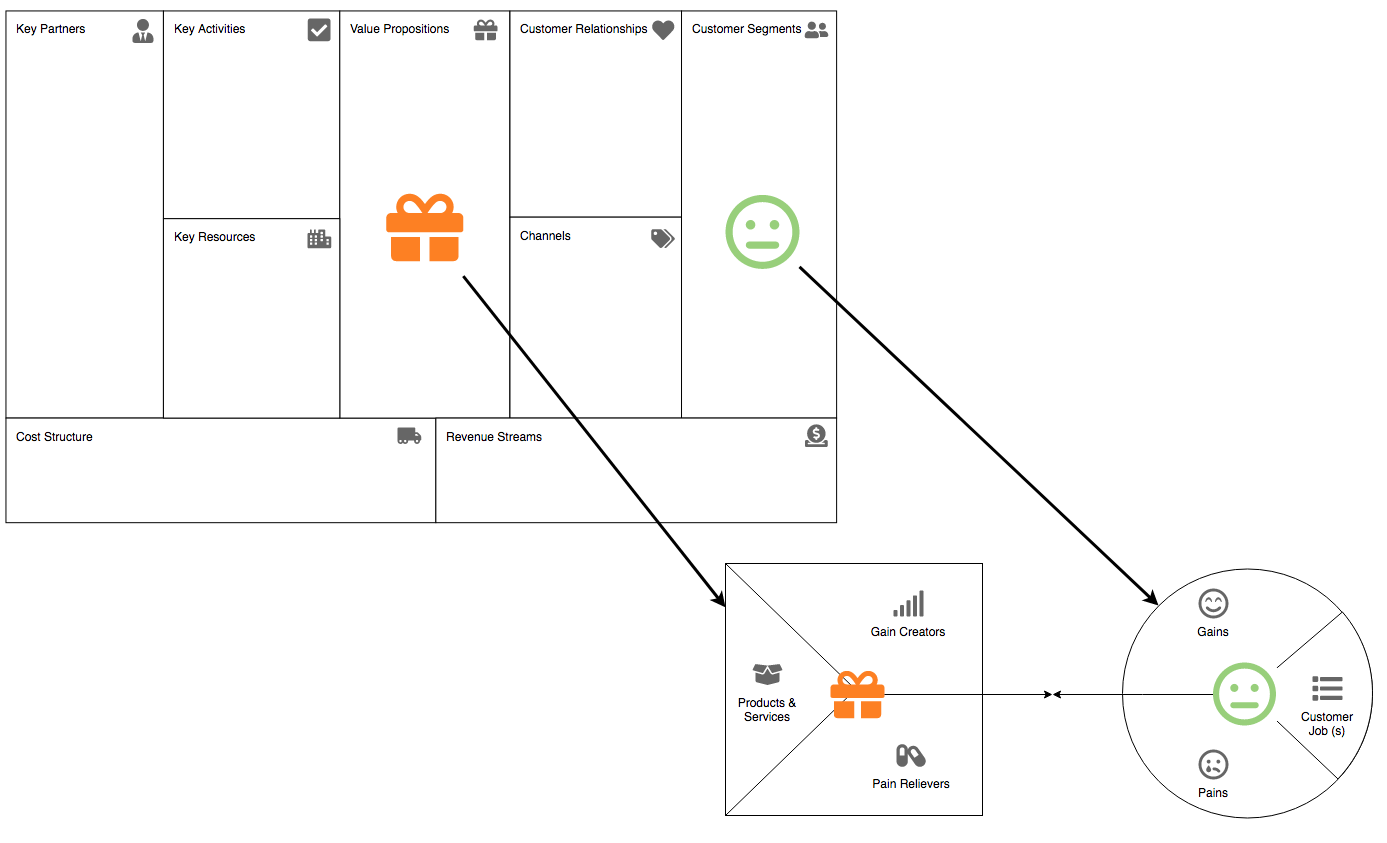 So, which version is more desirable for you? Which one would be your choice? My answer is – Choose the one you want that best fit for your needs. But, how can I customize a canvas, or design a new template for my company for reuse?
What is Analysis Canvas? Why we need it?
As I mentioned before, there are so many different type of canvas templates proposed in the internet for serving different purposes. Now let's call them "Analysis Canvas" which is a visual chart with elements describing a firm or product value proposition, infrastructure, customers, and finances. It assists firms in aligning their activities by illustrating potential trade-offs.
Visual Paradigm Analysis Canvas empowers you to create any custom type of model canvas you want over the cloud platform. In addition, it comes with large collection off-the-shelf model canvas templates for you to get start with. You can adopt, customize or create and reuse as many as new model canvases online as you need.
How to Customize a Model Canvas?
Visual Paradigm Online Diagrams come with a large set of customizable Business Model Canvas templates to help you start quickly. You can use the templates as a starting point to create your own Business Model Canvas.
Visit the Business Model Canvas examples page.
Click on the canvas you need.

Click on Use This Template.
Customize the canvas to fit your need. You may use text and memo shapes for description.

How to Create a New Model Canvas?
Besides using our Business Model Canvas template, you may also create your own canvas. Here are the steps:
Open the Analysis Canvas editor and start with a blank analysis canvas.
Split the region to sub-regions according to your need. To do this, right-click on the region and select Split Horizontally/Vertically.

Save your work by selecting File > Save from the main menu.