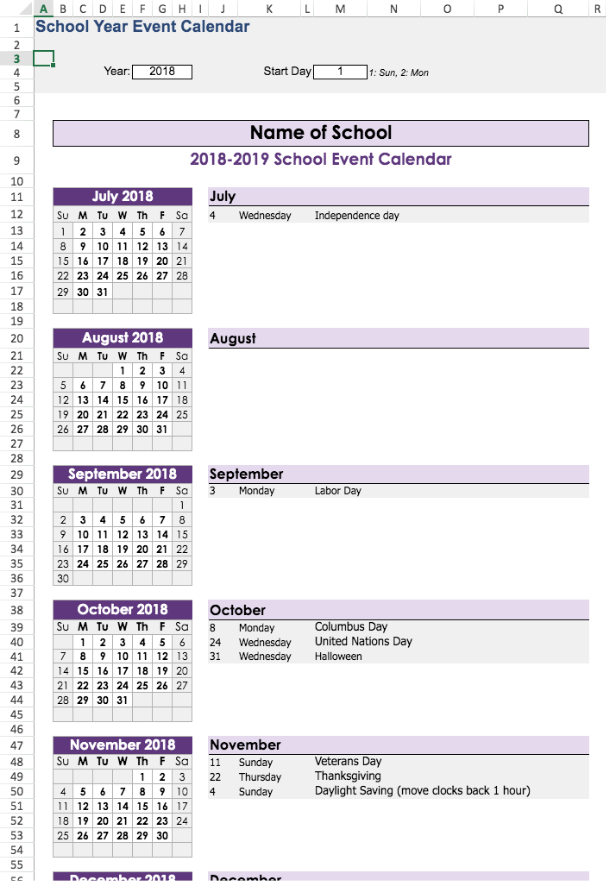 Edit this template
Violet School Year Event Calendar: Keeping Track of All Your School's Activities
A violet school year event calendar is a scheduling tool used by schools to manage and keep track of all events, activities, and meetings that take place throughout the academic year. It allows schools to organize and coordinate their schedules, ensuring that all events are properly planned and executed.
If you're looking for a way to keep your school's event calendar organized, consider using a template. Visual Paradigm offers a violet school year calendar excel template that makes it easy to create and manage a schedule of events. With its user-friendly design and vibrant violet color scheme, you can quickly add events, assign rooms and resources, and track progress in a visually appealing manner.
Benefits of Using Visual Paradigm Violet School Year Calendar Excel Template:
Easy to use and customize
Helps to stay organized and on top of events
Saves time by automating scheduling tasks
Improves communication and collaboration with its visually appealing design
So if you're looking for a comprehensive and visually appealing way to manage your school's events, consider using the Visual Paradigm violet school year calendar excel template. With its many benefits and user-friendly design, you can keep your school's schedule organized and make sure all events run smoothly.