What is the Business Model Canvas?
The Business Model Canvas (BMC) is a strategic management and entrepreneurial tool which is a visual chart that allows you to describe, design, challenge, invent, and pivot your business model. It provides an organizational blueprint for further planning and action. The resulting canvas is a single-page business plan that represents how an organization creates and delivers value to its customers in the future. You can design a business model canvas by yourself but it is more effective if done by a group of people, for example with colleagues or domain experts. The canvas collects information under nine areas critical to an organization by addressing value proposition, customers, infrastructure, and finances.  The Business Model Canvas is useful for:
Startups and entrepreneurs
New products or services within an existing business model
Organizations reassessing their old business model
Alignment of plans throughout all levels of the organization
Organizations seeking new relationships with customers, key partners, and investors
Consultants and advisors tasked with assisting or evaluating an organization
Businesses undertaking mergers or acquisitions
The Nine Basic Building Blocks of Business Model Canvas
The Business Model Canvas breaks your business model down into nine easily-understood blocks which show the logic of how your company intends to make money. It typically uses sticky notes to add items to your printed Business Model Canvas, in this way you can easily more the position of an item from one building block to another.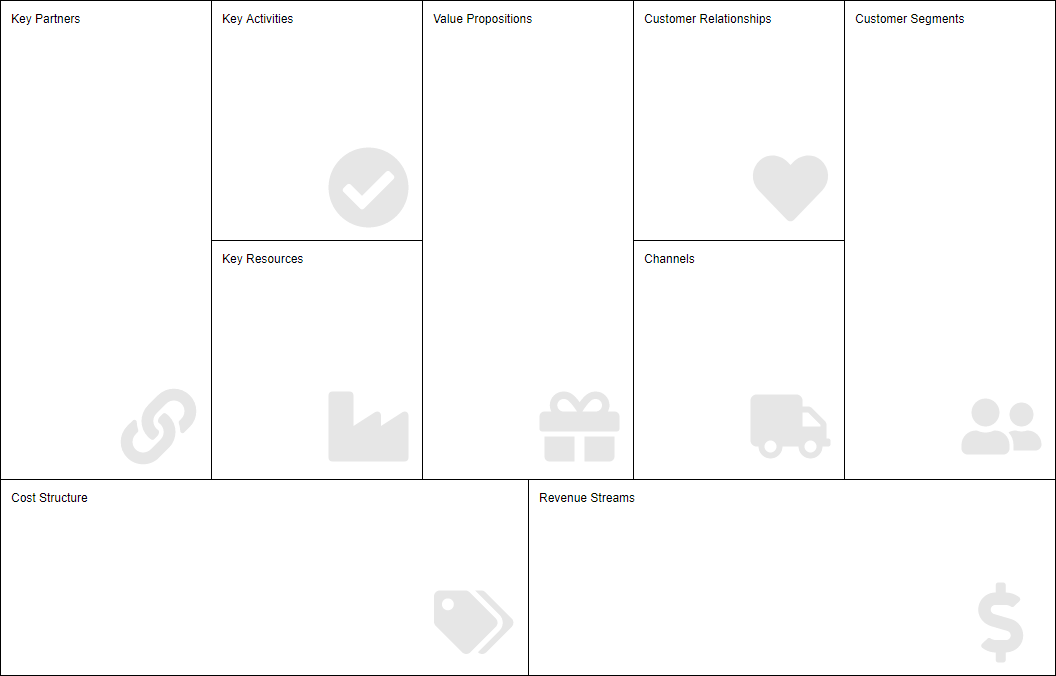 Build My Canvas with this Template
You can create your Business Model Canvas by completing the building blocks in the following order:
1.      Customer Segments – Who are the customers?
Define the different groups of people or organizations you aim to reach and serve.
Who are the customers?
For whom are you creating value?
Who are your most important customers?
2.      Value Propositions – What's compelling about the proposition?
Describe the products or services that create value for your customers.
Why would a customer choose your company?
What customer problem or need do you solve?
Which products or services are offered?
3.      Channels – How are these propositions promoted, sold and delivered?
Determine how you reach your customers to deliver the value.
How does your company reach customers?
Which communication, distribution and sales channels are used?
How would customers want to be reached?
4.      Customer Relationships – How do you interact with the customer through their 'journey'?
Define which kind of relationships your company has with the customers.
How personal is the relationship with the customer?
What type of relationship does the customer expect?
5.      Revenue Structure – How does the business earn revenue from the value propositions?
Describe how the company generates revenues. Revenue is generated by selling your products or services or from other activities.
For what are the customers willing to pay?
For what are the customers currently paying?
How do customers prefer to pay?
6.      Key Resources – What unique strategic assets must the business have to compete?
Determine the most important resources for your company. Key resources can be physical, financial, intellectual, or human.
What resources are needed to create value or revenue?
What resources does your company need to organize the distribution channels?
What resources are needed to maintain customer relationships?
7.      Key Activities – What key activities the company do to deliver the value proposition?
Define the most important activities your company must perform.
What activities are needed to maintain customer relationships?
What activities are needed to generate value and revenue?
What is needed to organize the distribution channels?
8.      Key Partnerships – What can the company outsource to partners so it can focus on its key activities?
Describe the suppliers and partners on which your company depends. Partnerships can be created to reduce risk or to acquire resources.
Who are your partners and suppliers?
Which resources are acquired from them?
Which activities do partners perform?
9.      Cost Structure – What are the business' major cost drivers? How are they linked to revenue?
Creating and delivering value to customers will result in costs. Determine the most important costs inherent in your business model.
Which Key Resources are most expensive?
Which Key Activities are most expensive?
Why use the Business Model Canvas?
A Business Model Canvas requires much less documentation than a traditional business plan. Because all the information is on a single page, updates and modifications are far easier to make. The simplified layout provides a clear picture of the organization for new employees, business partners, and potential investors.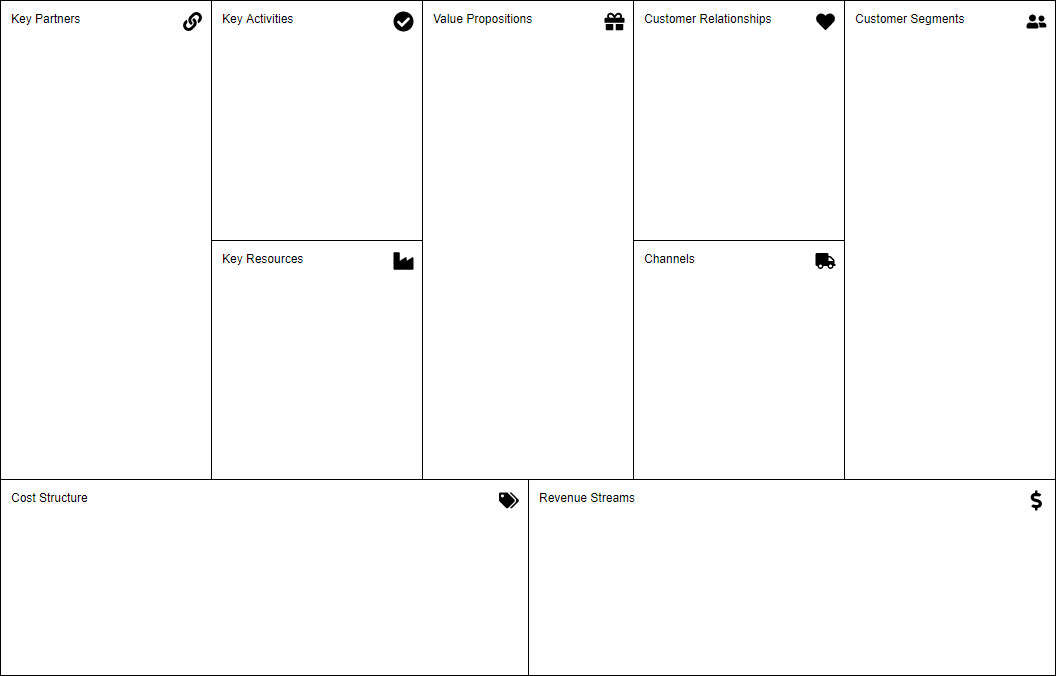 Build My Canvas with this Template
Identify problems that your product must solve
Analyze competitors and market leaders to understand their strengths and weaknesses
Find a solution for your target audience's problems
Identify key metrics of your success. If we speak about mobile app metrics could be the number of app installation, active users, subscribers, etc.
Find key partners to grow the development temps
Create a unique value proposition to make your target audience use your app instead of all alternatives
Know who your clients are. You should know where are they located, what are they interested in, why do they want to use your product.
Research marketing channels. This helps you to promote your app correctly.
Determine the best revenue stream for your startup
Identify key resources and activities.
And, naturally, to estimate costs for all development stages of your product.
Business Model Canvas template
A Business Model Canvas template is structured as nine building blocks supporting four key elements of the organization: Value Proposition, Customers, Infrastructure, and Finances.
The nine-building blocks consist of Value Proposition, Customer Segments, Customer Relationships, Distribution Channels, Key Activities, Key Partnerships, Key Resources, Revenue Streams, and Cost Structure.
Business Model Canvas Example – Lego
LEGO has revamped the entire business model using the Canvas.  Not only did they avoid bankruptcy, but they quadrupled the revenue and brought back the love of the kids around the world.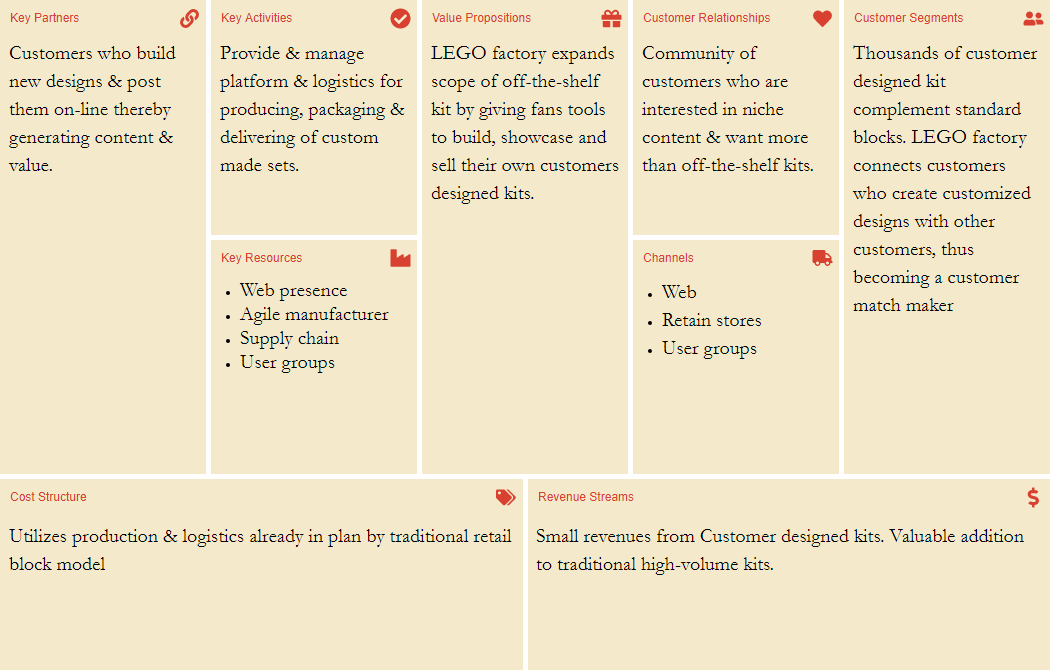 * LEGO Business Model Canvas. By G. Motter
* Business Model Canvas from Strategyzer.com licensed under the Creative Commons Attribution-Share Alike 3.0.