A genogram is a family map or history that uses special symbols to describe relationships, major events, and the dynamics of a family over multiple generations. Conventional family trees might have names and relationships listed next to images or within shapes, however, these types of family trees can often be deprived of a lot of information. But are Tom and Mary twins, are the listed parents their biological parents or were they adopted? You can answer all these questions in the form of a Genogram.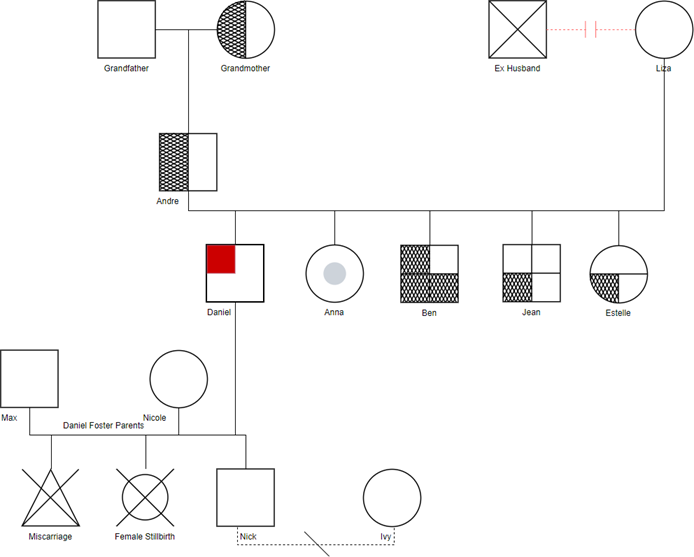 Edit this Genogram diagram example
Genograms contain a wealth of information on the families represented. First, they contain basic data found in family trees such as the name, gender, date of birth, and date of death of each individual. Additional data may include education, occupation, major life events, chronic illnesses, social behaviors, nature of family relationships, emotional relationships, and social relationships. Some genograms also include information on disorders running in the family such as alcoholism, depression, diseases, alliances, and living situations. Genograms can vary significantly because there is no limitation as to what type of data can be included.
Genogram vs Family Tree
Think of it as an extremely detailed family tree. Mental health and medical professionals often use genograms to identify patterns of mental and physical illnesses such as depression, bipolar disorder, cancer, and other genetic diseases. To begin a genogram you will need to interview family members first. Then, you can use standard genogram symbols to create a diagram that documents your family's specialized history. It can also be used to identify repetitive patterns of behavior and to recognize hereditary tendencies. A genogram is often used for the following situations:
Visualize your client's medical, social, psychological and family relationship history
Gather medical and psychological information for solving medical problems
Explore the quality of relationships and behavioral patterns of patients
The Symbols of Genogram
A genogram is created with simple symbols representing the gender, with various lines to illustrate family relationships. A Genogram uses a square for males and a circle for female family members. Similarly, the way symbols are represented in a Genogram explains whether children are twins, adopted or are listed with their biological parents.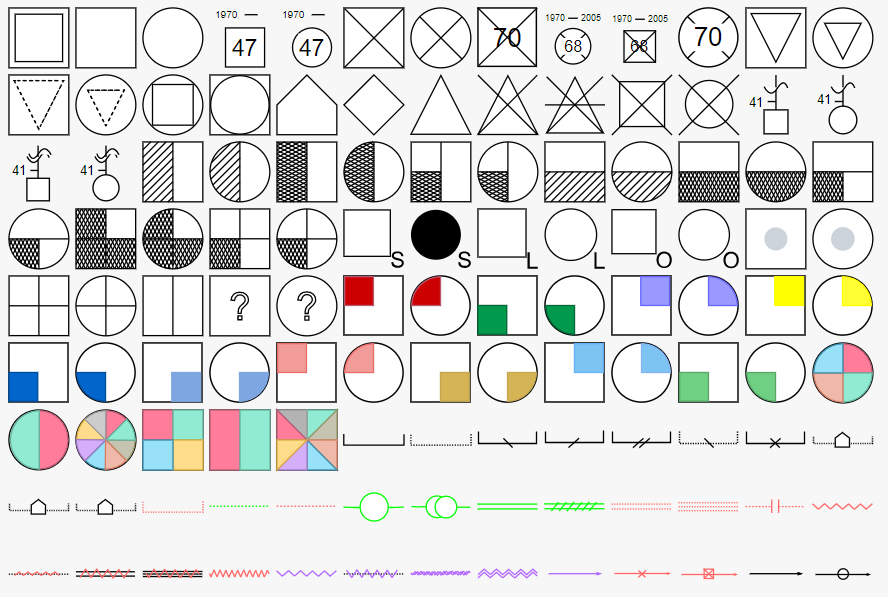 Powerful Online Genogram Software
VP Online is the easiest Genogram software on the market today. Whether you're a beginner or a pro, to draw a Genogram is always simple and fast with VP Online's rich set of Genogram tools, symbols, and templates. Plus, you can draw and discuss Genogram anywhere – VP Online is an online diagram software that runs on any device, any browser.
A set of Genogram templates are available. No matter you need to develop a Genogram or just to gain some ideas, you can find a template that suits your needs. The followings are just a part of the template collection.