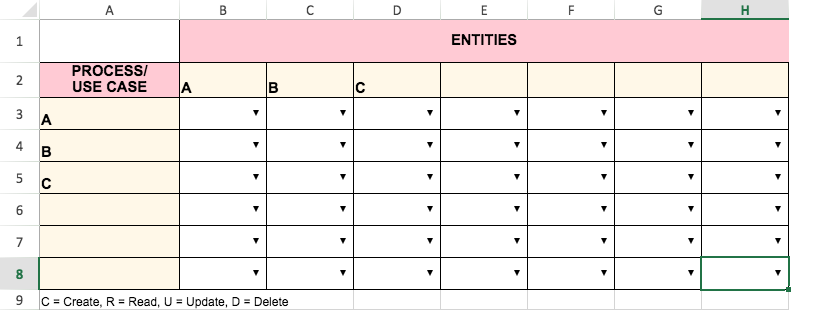 Edit this template
CRUD diagrams are a powerful tool that can help streamline database design and improve collaboration among stakeholders. These diagrams provide a visual representation of database operations such as Create, Read, Update, and Delete, making it easy to understand the functionality of a database. By using a CRUD diagram, developers can easily identify potential problems and make informed decisions about database design.
Visual Paradigm offers an excellent CRUD diagram excel template that can be used by both developers and non-technical users. The template is user-friendly and comes with a set of intuitive tools that make it easy to create and manage database diagrams. Additionally, the template is fully customizable, allowing users to adjust it to fit their specific needs.
In conclusion, CRUD diagrams are a valuable tool for improving database design and collaboration. The benefits of using a CRUD diagram include increased efficiency, improved understanding of database operations, and reduced errors. We highly recommend using Visual Paradigm's CRUD diagram excel template for all your database design needs.